Reading Time:
4
minutes
There's a deadly virus that has wrecked the self-esteem, intellect and productivity of Pakistani women. This virus is characterized by tuning in to morning shows on our private channels and obsessing over the host and internalizing anything and everything projected. Sanam Jang, Nida Yasir and Sahir Lodhi are some of the carriers of this virus.
Look around! Your nani, dadi, mother, sister or even mother in law might be infected!
Here are 5 reasons why you should save them from this infectious disease!
1. Demeaning, racist and sexist remarks!
'Good Morning Pakistan- Maa Mamta aur Makeup' is a platform on the morning show of ARY Digital for the talented yet financially struggling women who are makeup experts. Here's a clip where these judges of a makeup competition are passing downright humiliating comments LIVE!
In a recent episode Nida, along with the judges Sabah and Sana passed odious remarks on some of the contestants…
"Sab se buri lipstick dekhein ke kis ne lagai hai?"
"Hont kyu chotey ker rae ho? Patley hont khobsoorat nae hein ab."
"Aj kal bharey hoey honton ka fashion hai."
How to save your loved ones: Tell them they can be imperfect AND beautiful- and that they don't need to get inspired by Nida's botox makeover either!
2. The not-so-subtle humor
Let's face it, Pakistani television does NOT know the difference between humor and/or cheap-talk. Scripts are feeble and some try very hard to copy Koffee with Karan's "Rapid Fire" segment (and failing miserably)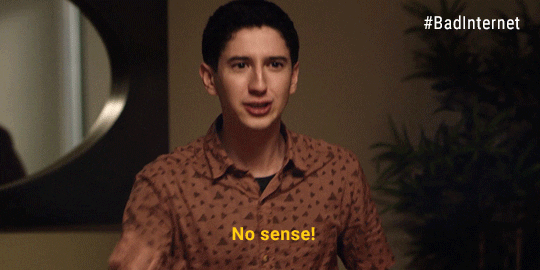 In an episode of Sanam Jung's 'Jaago Pakistan Jaago', she had the cast of 'Parwaaz hai Junoon' as guests and she held a segment where she asked some really ridiculous questions, she was trying to be wacky but it actually made you roll your eyes.
"Kitney feesad log neend mein kharatey lete hein?" (Why is this even a question?)
"Urdu mein ginti batani hai, kum se ziada per jana hai." (This has become a trend- people saying that they don't know urdu, thinking that it would make them look cool)
"Kitney feesad log aisa sochtey hein ke larkey unhi larkion mein dilchaspi lete hein jo unhein tawajah nae dete?" (Almost 80% of the questions are based on love, larka-larki, or shaadi)
How to save your loved ones: introduce them to alternate shows such as Ellen or Oprah, get them a Netflix subscription or comedy movies. Do whatever it takes to keep them laughing on things that are ACTUALLY funny!
3. Indian music and pointless boogie woogie
We have to admit that we really enjoy Indian music and watching shows like, 'Dancing with the Stars', 'So you think you can Dance' and even 'Aaja Nachlee' and 'Boogie Woogie'.
Sahir Lodhi's show 'Aap ka Sahir' holds a dance competition featuring kids who have actually danced on songs like: 'Kamli', 'It's the time to disco' and 'Laila mein laila'.
Since he admires SRK so much, why can't Sahir read as many books as SRK and discern that these dances are pointless for confidence building and development of children?! But no, he's too busy with his 'Swag se Swagat'.
To add to this mayhem, all the judges will get up and start dancing the contestants for their additional 15 mins of fame. These judges, btw, are not choreographers and neither offer any productive feedback or sponsorship to enroll talented schools in theater/dance academies!
"Very good work."
"Yeh Ayesha to nae thi, Katrina ki rooh agaye thi"
"Kiya performance hai bhai"
How to save your loved ones: Convince them that children should have real ambitions and platforms that support them and good schools, not Sahir Lodhi shows.
4. kids as Comedians?
Recently a video of Good Morning Pakistan went viral, where a kid named Ahmed Shah was screaming 'Oyeee' on live television. The uncomprehendable part about these shows is that why are kids being treated as circus clowns or stand-up comedians? On the show Nida is asking questions like:
"Ami Ziada Pyar Kerte Hein ya Abu?"
"Cheekhta kon hai gar mein? Ami ke Abu?"
"Ami Abu se naraz hoti hein?"
This was quite offensive for the viewers and asking small children these questions are a bit personal for live television. Nida felt it was a noble deed to do so! She kept provoking Ahmed by taking his toy and doughnut and he eventually got irritated, screamed, misbehaved and kept exclaiming, "Oyee Dey".
How to save your loved ones: Tell them to keep children away from morning shows as much as possible. They are hazardous for our future!
5. 'Lights, Camera, Dulhan'
Shaadi se sab shuru aur shaadi pe sab khatam.
The unrealistic personas of "achi bahus" that these shows create and propagate are far removed from reality. Additionally, these shows encourage women to be obsessed with bridal makeup, jewellery, outfits and what not! One makeup competition and designer keeps springing up out of nowhere on these shows.
In an episode of 'Jaago Pakistan Jaago', Sanam assigned a very racist and peculiar task to the participants:
"Make sure the makeup is of Negro tone, nothing lighter. You have to create a chocolate bride."
"Is tarha kon kerta hai?"- Sanam says this while pointing at one of the participants
"Wasey to in ki base mujhe achi nae lag rae liken bethi hoi hai. Phati hoi nae hai." One of the remarks by the judge, Fiza
"Tum to bachpan ki dosti aise kharab ker rae ho, mere sath kyu nae decision lete." When we had a clash of ego between the judges(How can a show be complete without this mirch masala)
How to save your loved ones:Tell all the girls in your family to literally get a life! Wasting their time on these shows is only going to breed self-doubt and under-confidence. They've got it all-and make sure they know so!
We just have one question for the management of these shows: What is wrong with you?
How do you think our morning shows can be improved?